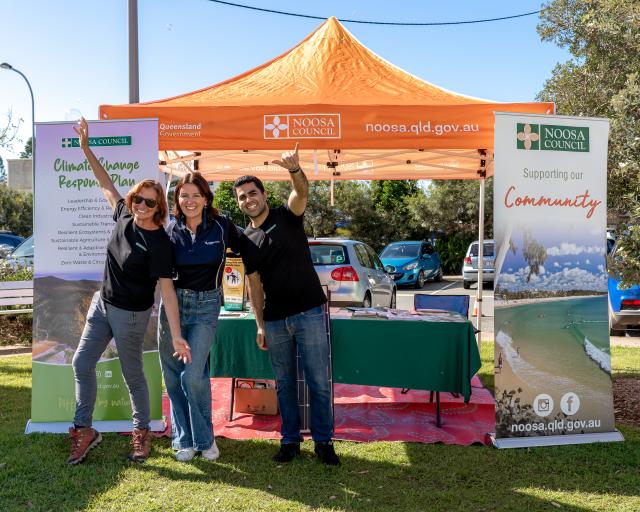 Rooftop solar has slashed Noosa Council's reliance on grid power substantially, not only supercharging the organisation's 2026 net-zero goal, but wiping 30-40 per cent off the annual power bill.
"For local businesses looking to get started on their quest to reduce emissions, renewable energy from solar is a great place to start. As well as reducing your carbon footprint it will help soften the impact of ballooning power costs," acting environment manager Rebecca Britton said.
"On a smaller scale, start making a difference today by turning off unnecessary lights and using timers and sensors."
Reducing emissions through energy efficiency is an important part of the larger goal of achieving net-zero. There are many other ways businesses looking to achieve carbon neutrality can get started, without major time and monetary investments.
"Join EcoBiz – it's a free government service set up to help Queensland businesses, community groups, sporting clubs and not-for-profits lower their emissions, boost their efficiency and save money.
"Locally, you can join Zero Emissions Noosa for guidance on getting solar and achieving carbon neutrality in business."
Transport is among Noosa's major greenhouse gas emitters and another good place for businesses to accelerate their carbon neutral journey.
"Consider reducing your transport emissions by calculating travel over one year and looking for ways to cut back on vehicle use. Perhaps connect with clients online, switch to walking, cycling or make use of car-share options," Ms Britton said.
"When it comes time to renew company vehicles, opt for electric. Check out Zero Emissions Noosa's Electric Vehicle Expo on June 19 in Noosa Junction to explore innovative transport options and the latest in electric vehicle technology."
When you can't reduce any further, look for ways to offset those emissions you can't avoid by investing in drawdown projects that plant trees, grow crops and nurture soil.
"Invest in local reforestation projects to offset your emissions, or take a hands-on approach – join our bushland care group and help plant trees in your spare time."
As a shire, waste remains a surprisingly major source of greenhouse gas emissions.
"While Council is constantly striving for best practice, we can all do our bit to reduce the amount of organic waste bound for landfill.
"Keep food scraps out of landfill, make sure to recycle paper and cardboard, and eliminate unnecessary packaging, especially everything that can't be recycled."
Ms Britton says businesses looking to really accelerate their carbon neutral quest should make detailed calculations about their emissions.
"Calculating your emissions requires understanding your impact clearly. You can prepare your own carbon footprint or engage a professional sustainability consultant.
"It's certainly possible for small businesses to become carbon-positive, whereby your business's contribution is greater than its impact. And the benefits aren't just environmental.
"Along the way you can look forward to greater efficiencies, cost savings and potential business growth as you become a preferred supplier to an increasingly eco-conscious consumer."
To get certified as a net-zero business, go to climateactive.org.au
FACTBOX
Ways to start slashing emissions:
– Install rooftop solar.
– Join EcoBiz for business advice.
– Volunteer with Zero Emissions Noosa or Bushcare on local projects.
– Cycle, walk or opt for online meetings to reduce transport emissions.
– Offset emissions by supporting reforestation projects.
– Upgrade company vehicles to electric.
– Recycle and reduce packaging.
– Compost food waste – zero food waste to landfill.