As rising demand from streamers for high-quality animation continues to outpace available talent, students are facing an industry that's more competitive than ever. In this special report, Kidscreen looks at the labor shortage issue and explores how programs at three of the world's top animation schools are changing to give students more job opportunities.
Detective Alice and the Inside Game

Length: Eight minutes
Writer/director/story artist: Kyky Yang, CalArts character animation graduate (May 2022)
Style: 2D/hand-drawn animation
Genre: Mystery-comedy
Demographic: Teens
Synopsis: The titular cat detective hunts down an elusive burglar, who isn't what she seems.
Future goal: "I'd love to continue creating content that is close to me as a member of LGBTQ+ community. I'm also Taiwanese, and I dream of someday making a film that reflects my cultural background and upbringing."
Portfolio: instagram.com/kyky.yang
 After a tough 18 months adapting to the pandemic, the renowned character animation school at CalArts (California Institute of the Arts) experienced a catastrophic flood last summer that destroyed its offices and computer labs, giving a whole new meaning to the word "pivot."
Adding to the demands of switching to online learning prior to the devastation, the program's heads and instructors were forced to adapt again after losing their home base and valuable educational resources when an HVAC chiller overflowed above CalArts' studios.
"[The flood] resulted in even more online learning for our teachers and students and the eventual use of a temporary off-campus location in Santa Clarita for in-person classes," says director of character animation Maija Burnett. "The upshot is that we're getting a renovation, and we'll have a vibrant new workspace to move back into that will be more suitable for the 21st century [from a tech perspective] when it's ready."
Though the pandemic and flood forced changes on the CalArts program, being ready to adapt at any moment is nothing new for post-secondary animation schools, which have to constantly keep up with rapidly changing software and tech to ensure their grads have the right skills to enter the job market.
The biggest ongoing concern is the struggle to provide the volume of workers required to meet a surging demand for animation talent being driven by the growth of streaming.
In Canada, for example, a 2021 study of the creative technology sector in British Columbia conducted by DigiBC, the Information and Communications Technology Council and the province's Ministry of Advanced Education and Skills Training found that more than half of the animation companies it surveyed had experienced an uptick in talent demand in 2020 and bigger workforce growth (724 hires between 2017 and 2019) than the VFX and video games sub-sectors. Respondents included WildBrain, Atomic Cartoons, Titmouse, DNEG and Yeti Farm Creative.
Animators are the most in demand when it comes to creative/ artistic roles—33% of companies across all industries noted this job type as in demand—followed by FX artists, referenced by 18% of animation and VFX companies. And this demand isn't likely to slow down anytime soon.
In the US, employment of special effects artists and animators is forecast to increase 16% by 2030, according to the US Bureau of Labor Statistics. And in the UK, the British Film Institute's 2021 Screen Business Report found that while production spend on animation for TV and online declined, animated films saw a massive increase, rising from US$96 million in 2016 to US$625 million in 2019.
From a worldwide perspective, the value of the global animation market is estimated to hit more than US$390 billion by the end of the year, up 5% from US$372 billion a year ago, according to market research firm Statista. And by 2030, it could very well surpass US$587 billion.
Netflix is still investing heavily in animation, despite recent belt-tightening measures that saw it axe five animated projects (for creative rather than cost reasons, the company has stated), after its first quarterly subscriber loss in a decade. In June alone, the streamer added eight new European projects to its slate, including four animated series and four features. And a month later, it acquired Aussie animation studio Animal Logic (The LEGO Movie) to support its long- form animation ambitions.
Streaming competitors Disney+, AppleTV+, Amazon, Peacock and HBO Max have also been building out their animation slates this year, with Disney+ in particular looking to capitalize on international growth.
Feeding the system
To address labor shortages, immersive one-year diploma programs at Canada's Vancouver Film School (VFS) pack three years of training into one year on a rotating model, sending skilled graduates into the workforce faster than traditional four-year degree programs, says Colin Giles, head of the School for Animation and VFX.
"We run our 3D animation and VFX program six times a year, and our animation concept art and classical animation programs four times a year, so students have a lot of options," says Giles. "It gives them a [head start] on jobs because [by the time] most students typically graduate in the spring, we've already graduated students back in the fall and winter."
To help students' careers along, the school offers mentorships and internships with industry professionals and studios. VFS also offers a fasttrack degree program in partnership with the British Columbia Institute of Technology and the University of the Fraser Valley in Canada, plus a number of other universities around the world.
"The program, which has been very successful, allows students to apply for a post-grad work permit," says Giles, adding, "We want students to have as many [job] options as possible."
However, despite the school's best efforts to fast-track students' careers, Giles says one of the biggest issues right now involves the varied and ever-changing regional rules around work permits and immigration status. Getting international students into Canada now that in-person classes have resumed is also a challenge, especially for students from countries like China, where extended city-wide lockdowns are causing travel delays.
Considering that the program's international enrolment climbed to 60% of its total enrolment during the pandemic (from 45% pre-2020), these issues are top of mind for Giles. "The challenge is keeping up with the changes and dealing with delays," he says. "We are seeing more international students arrive, although it's still very difficult for students from China to travel here."
While international enrolment for VFS's animation school has increased, across the pond, the University of Hertfordshire's digital animation program has experienced a drop in students from outside the UK, mostly due to Brexit.
"Out of 370 students, 80% are currently from the UK, but our international enrolment has fallen to 20% from 35% pre-Brexit," says Martin Bowman, who runs the program with Daniel Goodbrey. "Up until Brexit, EU students could study with us and receive government [loans] for tuition. After graduating, they could get jobs in the UK quite easily and then pay back the money they borrowed. It was a brilliant system, but since Brexit, the bottom has fallen out of that market. We still get internationals, but things have shifted for us in that we're seeing more applicants from Southeast Asia now."
The inability to funnel enough international students into the job market could become a bigger problem for schools, especially considering how much streamers like Netflix and Disney+ have been investing in localized animated originals for different international territories. Another major ongoing issue for schools is the need to continually expand students' skill sets.
Keeping up with technology
According to DigiBC's Creative Technology Ecosystem study, real-time game engine programmers skilled in using Unreal Engine and Unity for animation are second only to video game data scientists/analysts as the highest-ranked job type of the future.
Though CalArts, VFS and Hertfordshire each have a different history teaching Epic Games' Unreal Engine technology, all three schools are planning further investment because the software will continue to impact the industry in a big way for years to come.
"Unreal and virtual production are going to really blow up in the next couple of years, and we are trying to keep up," says Giles. "From a general production standpoint, more TV shows—and kids TV, especially— will be moving towards Unreal and virtual production."
Production companies around the world currently developing kids animated projects in Unreal include Cyber Group Studios (France), Dark Slope (Canada), Hype (Brazil), CAKE (UK) and Lil Critter Workshop (Malaysia).
Giles says VFS's games program has used Unreal for many years, but now the school is building training programs through fellowships with Epic Games. "We're hiring part-time instructors with Unreal experience to help students already interested in the tech, and then next year we will launch Unreal into our curriculum," says Giles. "We'll be teaching it from day one alongside Maya and Nuke."
Taking this integration a step further, the program is also looking to invest in or partner with a company to install an LED video wall similar to Industrial Light & Magic's on-set virtual production/VFX tech Stagecraft, which was first used on Disney's The Mandalorian.
At Hertfordshire—which offers three-year degrees in 2D animation, 3D animation and VFX, 3D games art and design, and comics and concept art—the digital animation program has been teaching Unreal since 2006 and will implement the latest iteration, Unreal 5, this fall.
"Because we've had a games art degree for such a long time, it's business as usual when it comes to Unreal," says Bowman. "But we are noticing demand is growing from not only the games industry, but also from the VFX industry and children's 3D animation production."
Further investment could pose more of a challenge, however. When Bowman and Goodbrey recently approached a company they prefer not to name about buying a virtual production studio with an LED wall, the company said it would cost about US$12 million. "Unfortunately, we don't have that kind of budget," says Bowman. "I think Vancouver Film School charges a lot more for tuition than we do, so that is how they might be able to afford one. But it makes perfect sense to invest in the tech because the industry will be more than willing to take grads who have those skills."
Epic Games' recent acquisition of nearly 50% of Toronto-based SideFX, which makes the popular 3D animation software Houdini, will also help more students land jobs, adds Bowman.
"The link between the two software products is now really cohesive," he says. "Our students who knew Houdini this year got hired extremely fast—most before they even graduated."
Should every school look to adapt with investments in real-time software and virtual production? Bowman says it depends on the focus. "If a school is focused on commercial-based animation projects, which we are, then yes," he says. "But schools focused more on fine art animation or animation more suitable for festivals might not jump in. That said, Unreal is going to get bigger and will give students another area to specialize in."
Underwater Disco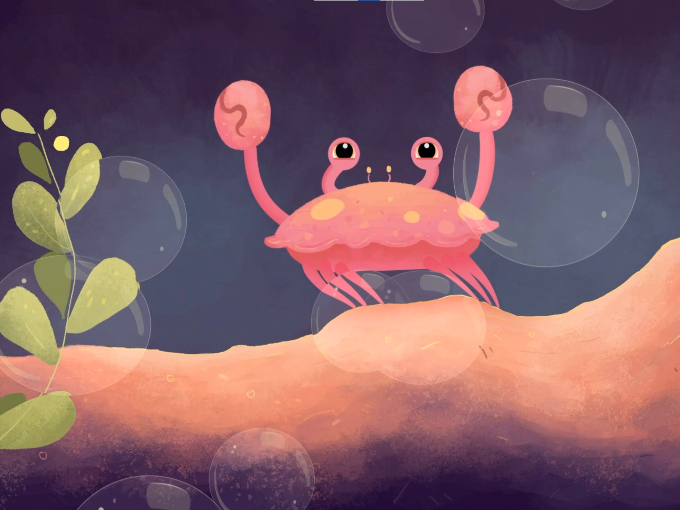 Length: Two minutes
Writer/director/story artist: Luna Cherrington, currently on a one-year internship with Disney, will graduate from the University of Hertfordshire in May 2024.
Style: 2D animation
Genre: Fantasy
Demographic: Preschool and kids
Synopsis: This playful fantasy is a modern reinterpretation of a Busby Berkely dance number, but with fish.
Future goal: "I want to become an animator working on a children's animated TV series."
Portfolio: luzmarmexico.myportfolio.com
Hiro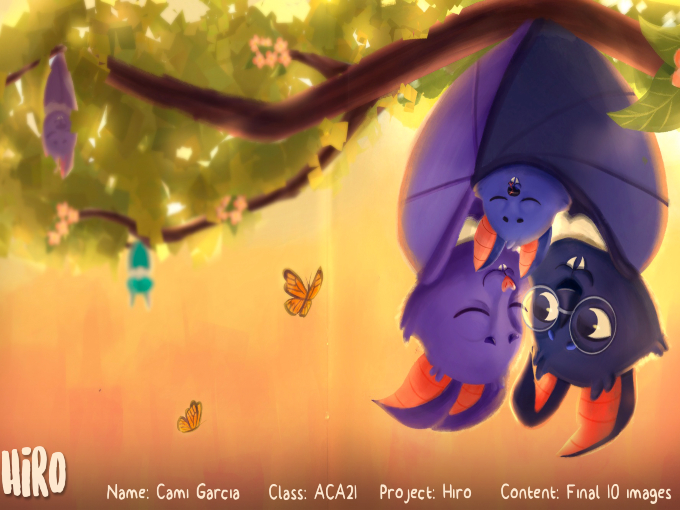 Length: One minute
Writer/director/story artist: Camila Garcia Ayala, Vancouver Film School animation concept art graduate (2022)
Style: 2D animation
Genre: Adventure-learning
Demographic: Four to eight
Synopsis: This children's book/TV series concept stars a bat with a cleft lip who, after meeting a new bee friend, learns that everyone has a different way to bloom.
Future goal: "I hope to pitch the idea to book publishers and develop it further for TV."
Portfolio: camigarcia.art
 Meanwhile, the four-year animation program at CalArts is taking longer to integrate Unreal into its curriculum for a number of reasons. According to Burnett, some elective VR courses where students got to practice in Unreal and Unity were taught before 2020, but when the pandemic and aforementioned flood hit, it was hard for students to get set up with the software and tech.
"We had to focus more on our core areas last year, which are traditional 2D/hand-drawn animation and CG animation" Burnett says. "We can't just jump in [to Unreal]. Our program has a very traditional backbone to it that remains our focus. But if Unreal continues to move at such a fast pace and becomes important to the industry, then it will be something we have to provide. We are definitely interested, but it will also depend on factors like space and budget."
In the meantime, the program continues to foster connections with studios working with Unreal and real-time production, including LA-based AMGI Animation (Hamsta World), which participated in CalArts events remotely during the pandemic and most recently attended the program's student showcase event in April.
"While we haven't necessarily been able to amp up our curriculum, we have had good discussions with members of the industry, and our students have been able to keep up with at least some of what's happening," says Burnett.
The need for specialized training
Another situation that could prevent students from taking jobs on animated kids content is the rise of adult animation. At Hertfordshire, two-thirds of the program's students want to get into adult animation, versus one-third or less who would prefer careers in kids animation. "It's partly this way because we cater to the VFX industry," says Bowman. "The quality that studios want for adult animation is phenomenally high."
To help improve students' skill sets, Hertfordshire has enough staff now (20) to offer specialized training in areas like rigging and real-time development, but Bowman says it's a challenge finding instructors.
"It took us over a year to hire someone from the industry for a rigging position, because the salary lecturers get paid in the UK is fixed by the government and significantly lower than the industry pay scale," he says. "It takes a lot of hard work to attract someone with the relevant experience who is also willing to take a pay cut."
According to DigiBC's Creative Technology Ecosystem study, some companies are experiencing difficulties in finding skilled juniors for in-demand roles that require specialized skill sets such as rigging. Employers noted that many juniors enter the industry as "generalists" and still require extensive training, creating a roadblock to hiring more entry-level talent, and stalling career advancement.
On the flip side, the majority of animation companies DigiBC surveyed highlighted that while the quality of skilled senior talent for in-demand roles in BC is good, there isn't enough of this talent available, making the hiring market very competitive.
To improve emerging animators' job prospects, production companies are increasingly investing in their own training and mentoring programs, while funding initiatives that support training and guidance for young talent have also stepped up. In the UK, for example, the Animation Skills Fund recently delivered its best-ever total of US$225,000 in contributions from productions over the last year.
For Giles, there is also a need to train even younger tech-savvy talent. "The big growth market right now in our industry is coming from high schools, and this will gain momentum in the next three to four years, especially in North America," he says. "Over the next couple of years, we plan to integrate our program into the digital media programs at high schools and bring training on board."
VFS's animation school already has a relationship with Sisler High School in Winnipeg, Manitoba, and last year awarded 15 full-ride scholarships. Students at Sisler have also received mentorship support from the Orange Tree Project—a collaboration between Sisler's CREATE program, Nickelodeon Studios, Nick Community Efforts, LA-based diversity org Rise Up Animation and Toon Boom Animation.
"The students who benefitted from this project come from a socio-economic level that likely wouldn't otherwise allow them to come to a school like ours—or any animation school, for that matter," Giles says, adding, "Programs like these are opening up doors."