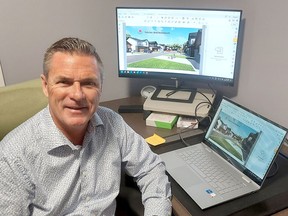 Article content
FamilyLending.ca, a mortgage brokerage, started by Robb and Kim Nelson out of a small office in 2005 in Chatham, has launched a home building company, real estate business and alternative lending company for the agriculture sector.
Article content
The success of these businesses has earned Robb Nelson the honour of Entrepreneur of the Year from the Chatham-Kent Chamber Commerce. The chamber also named Maple City Homes Business of the Year, which Nelson leads.
"Every business is a break-off of Family Lending," Nelson said.
Noting the finance world provides an opportunity to see hundreds of other business opportunities, he said they spent years financing subdivisions and farms in the alternative financing space.
Financing 300 to 400 homes a year across Southwestern Ontario, Nelson said, "We saw the whole back-end of how the developer takes raw land, gets it serviced and then builds the end product."
Having gained this knowledge, he said they decided to look for the best market to build homes and through their research, it turned out to be Chatham-Kent. He added they explored several other markets in the region looking for the best infrastructure, access to Highway 401 and a labour force that could be mobilized.
Article content
Noting it was important to make sure people would move here, Nelson said, "We saw a very strong economic development group" in Chatham-Kent.
He added the municipality also had the best cost for land, serviceability and good infrastructure.
Maple City Homes, which includes home builder Trevor Mailloux as partner, began with a plan to take on a unique project to develop a partnership with local skilled trades. This involved purchasing the former Spurgeon Villa, a 53-unit complex on Highway 40 north of Chatham, which is now King's Gate Villas
Nelson said they mobilized a unique production of local trades and renovated all the units "through a systematic production build.
"In 10 months, we bought it, fully renovated it . . . and had a waiting list," he added.
Article content
After the success of this project with local tradespeople, Nelson said Maple City Homes moved forward to "set up the processes of building good quality, high-end products efficiently in a production model."
Noting the production build model is a mainstay in larger cities, he said, "It's not that we re-invented the wheel, it's just that we brought the wheel to Chatham."
While there are some who feel the company builds homes too quickly, Nelson said, "Actually, they're the best and we're proud to say they are the best, because we have energy ratings to show they're the best."
He noted Maple City Homes has won the A&J Energy Consultants Home for Ontario last two years as one of the most energy efficient homes in the province.
Article content
The company has also built its first net-zero ready energy efficient model house at 124 Grassland Grove.
"Net zero means that the home would be capable of making its energy, so that the utilities – the gas and hydro – would equal zero," Mailloux said.
Being "ready" means the only thing left to do is install a 10-kilowatt system on the roof, he added.
"That's where the new building code is coming in 2030."
The 300 houses constructed in the last five years also led to the launch of MCH Realty to sell the homes they build.
FamilyLending.ca has also expanded on its own, which led to creation of AgriRoots Capital Management, with both companies operating in nine provinces across Canada.
"People haven't seen how well we've grown the Family Lending brand and AgriRoots brand," Nelson said. "We are positioning ourselves to be Canada's largest alternative lenders in the agricultural space."
Nelson will receive the awards Wednesday night during the chamber's 134th Business Excellence Awards event at the John D. Bradley Centre.
"We're thrilled and humbled," Nelson said to have this recognition for the collective work done by everyone on the team that numbers about 250 people, including the tradespeople who are considered part of the family.
"The community has embraced us."